mFire offers top quality Internet access at a great value. With every mFire dial-up Internet service plan you get:
Fast, Reliable Connections
Thousands of Local Access Numbers
Instant Messenger Compatibility
5 E-Mail Addresses
24/7 Live Toll-Free Tech Support

Easy Setup & Payment
Instant Account Activation
No Setup Fees
E-Mail SPAM Protection
E-Mail Virus Protection
Superior Internet Access Plan
Our most popular plan is our Superior Internet Access plan. With this plan, you get all the features above, including reliable Internet surfing and instant messenging, for just $19.95 per month.


Call Toll-Free at 1-866-634-7379 to Sign Up for Superior Internet Access
Filtered Internet Access Plan
mFire also offers content filtering as a free option. The Filtered Service is the same price and has all the same features as the standard service, with the addition of special software designed to provide a "family friendly" internet experience by screening out Web sites with pornography, drugs, weapons, hate, violence and other adult content.
This state-of-the-art system is fully configurable and you can control the types of sites to allow or deny access to through your account.


Call Toll-Free at 1-866-634-7379 to Sign Up for Filtered Internet Access
Extreme Internet Access Plan
Upgrade to mFire Extreme for just 3 bucks more a month and get advanced, high-speed Internet acceleration and pop up blocking. Our system is easy, automatic and configurable and accelerates Web surfing and email by up to 5X and blocks most pop up ads. Our accelerator is as good or better than most competing products, even though other ISPs typically charge $5 or even more for this service. mFire remains committed to offering the best value in Internet access by offering a high-speed Internet accelerator plan at a price affordable to everyone.


Call Toll-Free at 1-866-634-7379 to Sign Up for Extreme Internet Access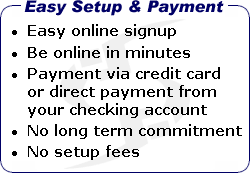 mFire offers high-speed dialup access through 56K modems throughout most of the USA. Check Access Numbers to make sure there is a dialup number in your area before signing up. We provide very extensive coverage using multiple networks with thousands of access numbers across the country.
Both networks feature sophisticated technology providing some of the fastest, most reliable connections available. As an mFire member, you have access to both of these networks, for the ultimate in coverage and reliability.
To sign up, please call customer service toll-free at 1-866-MFIRE79 (1-866-634-7379). (Online signups are currently disabled to prevent fraud and protect our network from spammers.)
When you call us at 1-866-634-7379, you will have the choice between two different service plans:
mFire Superior Internet Access (with optional content filtering)
- Just $19.95/month and No Setup Fees!
mFire Extreme Internet Access (with Internet accelerator)
- Just $22.95/month and No Setup Fees!